The Movistar team goes out to train
Mojacar has become the official headquarters of the Belgian Cycling Federation in Spain, specifically the Hotel Marina Playa Servigroup group, having already received the first groups of cyclists of the season, staying in the town for training until late spring . Some teams go and others come for the duration of the season workouts. Since January they have been coming Belgian and Dutch teams hand Kortweg Cycling Travel, Belgian agency specializing in cycling, organizer of very specific stages and specially chosen destinations following the demands of elite athletes. All these groups are relaying to the end of May.
The ideal place
Jan Almeye, Belgian professional cyclist and manager Kortweg, and Piet Kuijs, great ex-racer and professional coach Rabobank team is now called Jumbo, they say Mojacar, along with Mallorca and Calpe, one of the most popular cycling destinations since no other area has the high quality of its roads and low level of motor.
Both professionals agree that in Mojacar also find great variety of routes for training, combining mountain with long flat stretches, which allows riders to change altitude quickly. It also has a perfect climate for training.
On a normal day of these riders, eat breakfast early, in mechanical workshops finalize details of the bikes and go en route to lunch. In the afternoon, after a short break, the session begins gym, massages and body and prepare the bikes for the next day return.
Servigroup
Ricardo Escudero, head of area Servigroup group, told the Voice that "ten years ago we started with the issue of international sport in the Marina Beach hotel and there are several professional teams training in the preseason, Movistar, Rabobank (male and female), Omega Pharma Lotto, Katusha, and then some, under-21 teams, which are now in the hotel, and amateur cyclists. There are now over 100 in the hotel. This is a work of many years, do not choose us random, we have facilities, qualified staff and a chain with prestige in the sector, this will have made significant investments, something that has made the last five years we are the Official Headquarters the Belgian Cycling Federation in Spain. "
It is no coincidence that the best teams are destined Mojacar.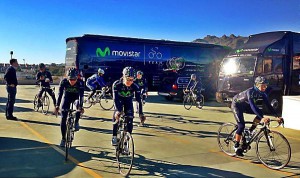 Movistar team goes out to train